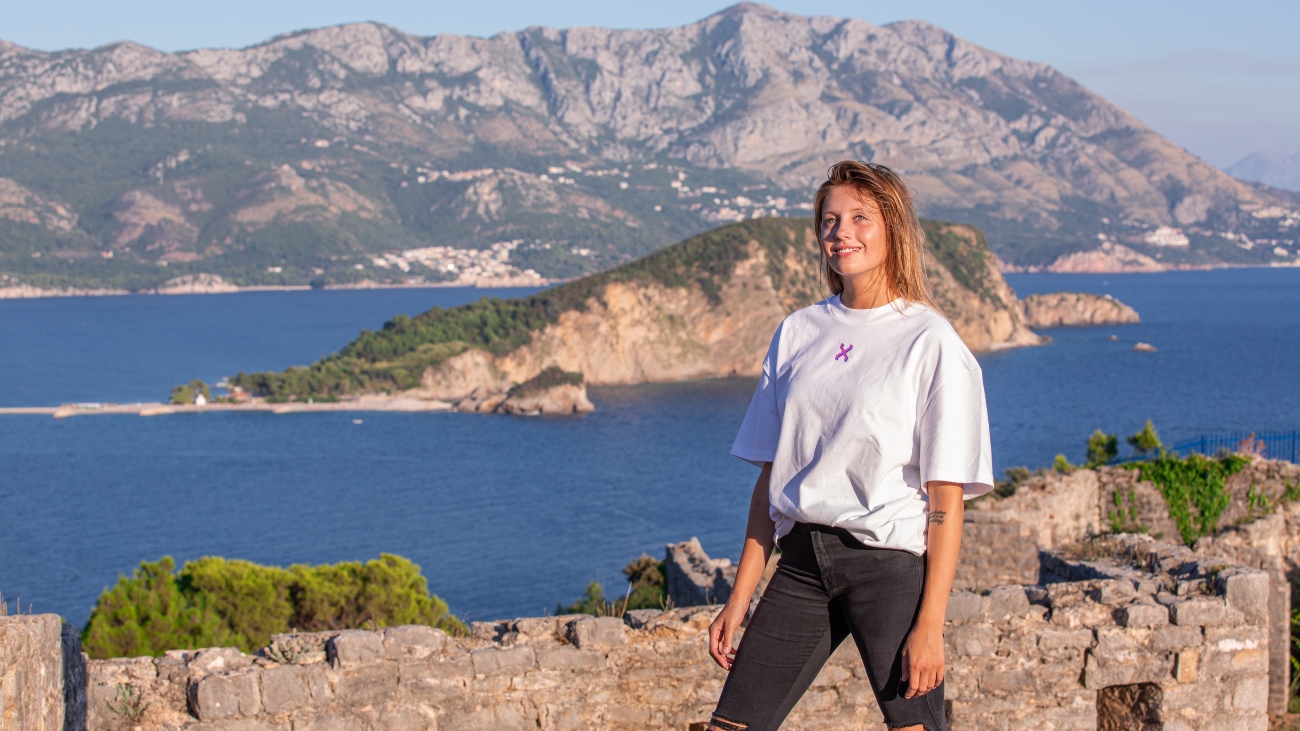 InfinitX, EXIT's new project, was successfully launched last night with a stream of exclusive performance by techno queen Charlotte de Witte from Fort Mogren.
It was from the old Austro-Hungarian fortress, which offers a fantastic view of the Adriatic Sea and the coast of Budva, that the Belgian superstar Charlotte de Witte launched her new EP "Rave On Time" and started a huge global party. The amazing shots of this dynamic set, in perfect contrast to the fiery orange sky, was viewed by an incredible 700,000 people in just 16 hours, via social networks and online video services, while this number is expected to reach millions in the coming weeks! Audience from all continents and over a hundred countries showed enthusiasm for Charlotte's music and appearance, as well as the natural beauty of Montenegro.
"I feel like dancing there along with beautiful nature surroundings!" is just one of 16,000 comments that ideally sums up the enthusiasm of the fans and directly fulfills the main mission of InfinitX which will, in line with global trends in destination promotion, combine the biggest names in music industry with the most beautiful locations around the globe. Given the fantastic reactions to the performance, as evidenced by more than 30,000 likes and the immense popularity that Charlotte de Witte enjoys on social media, it is expected that the previously set goal of one million viewers will be reached this weekend!
Charlotte's performance was also the introduction to the second week of broadcasting performances from EXIT's Life Stream, which has so far been viewed by as many as 2.5 million people worldwide! After Charlotte's set, the audience was able to enjoy the performances of Marcel Dettmann and Tijana T recorded at the Petrovaradin Fortress.
Friday night is reserved for the performances of hitmaker Mahmut Orhan, which will be broadcast at 20:20 CET, followed by the legendary Paul Van Dyk starting at 21:35 CET, the local duo Vantiz at 22:45 CET, and Lady Lee at 23:35 CET.
The online audience is anxiously looking forward to performances from techno magicians Adam Beyer at 20:20 CET and Ben Klock at 21:50 CET, as well as a performance by rising star Ece Ekren at 23:50 CET on Saturday.
On Sunday, September 27th, the second streaming weekend will be closed with performances by Satori live starting at 20:20 CET, Hot Since 82 at 21:35 CET and Kristijan Molnar in a special b2b edition with After Affair at 23:35 CET.
All streams will be available at EXIT Festival's official website, YouTube channel and Facebook page, as well as at Life Stream website.
As an integral part of the footage of all performances, videos and messages which speak about the mission of the Life Stream project and the work of the United Nations World Food Programme will be broadcasted, as well as the ones advertising numerous cultural and tourist sights from Novi Sad and Serbia. During Life Stream, it will also be possible to donate directly to the World Food Programme through their official website.
The Life Stream project was unveiled last year with a pilot release at the Amsterdam Dance Event and together with the Green R:Evolution is EXIT's biggest environmental endeavor to date. In partnership with the United Nations World Food Programme, Life Stream has entered a new phase and expanded its scope, which, in addition to protecting the environment, highlights the problem of ending extreme hunger for millions of people around the world. An urgent reaction is needed due to the fact that before the end of 2020, the pandemic will bring as many as 270 million people to the brink of extreme hunger, which is an increase of 80 percent compared to the year before.